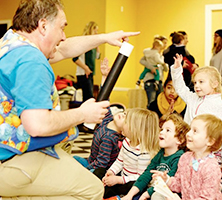 by Paul Mordoff, owner of Party Talent, LLC
Paul Mordoff performs over 300 shows a year in the Northeast as Mr. Bungles, a comic clown character without makeup, whose act includes a comedy show, juggling, magic, and huge bubbles. For more information, visit PartyTalent.com or call 203-846-2000. (This blog may be copied or reproduced in its entirety as long as this byline is posted.)
Introduction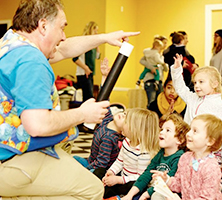 Being a performer is a wonderful life. You get to travel and meet all kinds of people, make children laugh, and have a great time.
My adventure as an entertainer started many years ago in kindergarten when my class put on a circus performance. I had the rather impressive role of Ringmaster. Many of the kids were going to be dressed in wonderful animal costumes, and it was my job as ringmaster to introduce their "acts." We practiced for weeks and weeks.
The big day finally arrived, and just before my big debut, I started to cry. "I can't do this. I can't go on," I pleaded with my teacher. She gave my part to another child; and as I watched him perform on stage, I thought to myself, "I could have done that!" At that moment, I realized that I wanted to perform more than anything in the world. The following year, I proudly made my debut as the "Boastful Bass," a comical fish character who stole the show!
Natural Talent
My love for performing continued to grow throughout my high school and college years. I played leading roles in touring productions of major musicals and dramatic works in New York and in the UK. During those years, I also created my first clown character, with a juggling act that I choreographed myself.
After graduating from college, I suddenly found myself a very small fish in a very large pond. I had a brief career (if you blinked, you may have missed it!) in television, film and commercials, and worked with many renowned performance artists. They gave me the opportunity to develop and perfect my characterizations in various performance media.
Professional Party Planner
I soon realized that the best way to work professionally as a performer was to create my own performance opportunities. I started several touring troupes and produced "shows." I continued performing on a part-time basis for many years. In 1996, I decided to become a party planner and full-time children's entertainer. Since then, I have performed at over 3,500 birthday parties and other events.
Mr. Bungles and Singing Telegrams
Currently, I perform as "Mr. Bungles." My comedy show features magic, music, crazy props, juggling, games, lots of bubbles, and balloon sculptures. The kids have a blast! The parents are relieved to know that they can relax and enjoy their guests while I entertain the kids. As a performer, I love to create a fun moment that the kids will remember for a long time to come. The best part is that I have just as much fun performing and watching them laugh!
I also do singing telegrams and make balloon deliveries for adults in an assortment of characters (including a gorilla in a pink tutu!) that will bring a smile to a loved one's face or create a fun memory for a birthday or other special occasion.
Fun Every Day
Yes, mine is a zany world, but every day is different and a lot of fun. Whether it is an adult in the middle of an office or a child enjoying a birthday celebration, I have the opportunity to brighten that person's day and perhaps create a memory that will last a lifetime.
The purpose of this blog is to facilitate your event. I draw from my years of experience to help you plan that perfect birthday party or special occasion. You can read every chapter or just those that are relevant to you. I include links that will help you locate everything you will need.  Sit back, relax and enjoy. I'll answer all your planning concerns so that you can make your birthday celebration the best one ever.
webmaster