Princess Birthday Parties with Princess Stephanie
Girls love princesses! Party Talent offers two wonderful princess birthday parties with Princess Stephanie, whose charming personality has been captivating kids for many years. Choose from the popular Enchanted Princess Party or The Perfect Princess Tea Party. Your little girl and her guests will have a magical experience.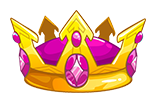 Enchanted Princess Birthday Party
Have some fun with a princess party! Princess Stephanie will make your little girl's dream come true as she becomes a real princess. Imagine all of your guests in beautiful costumes that Princess Stephanie provides. Your guests will enjoy the feeling of becoming a real princess. By inviting her to your birthday party, the girls will learn the ins and outs of royal life and will have a magical royal time. The princess party includes amusing games, fun crafts, beautiful costumes, an elegant ball, and an enchanted story time. Your princess party will send your loved ones to a whole new world! There will also be costumes for knights and princes. Everyone is invited to have fun and is most welcome to this royal event! The princess party experience will make her party a birthday to remember and is something that your little girl will talk about for months!

Ages 3-8; maximum of 12 kids. $300 for local parties
The Perfect Princess Birthday Tea Party
Princesses love tea parties! It is the royal way to socialize after all! One must know how to behave like a princess to join a royal tea party.
Ages 5-9; maximum of 12 kids. $300 for local parties
Add On: Have your royal court each decorate a porcelain tea cup & saucer. Call Party Talent at (203) 846-2000 for details.
Princess Stephanie will teach the young ladies proper posture and etiquette rules. While sipping tea from an elegant tea set, your little princesses will learn the definition and experience of what makes a true princess: