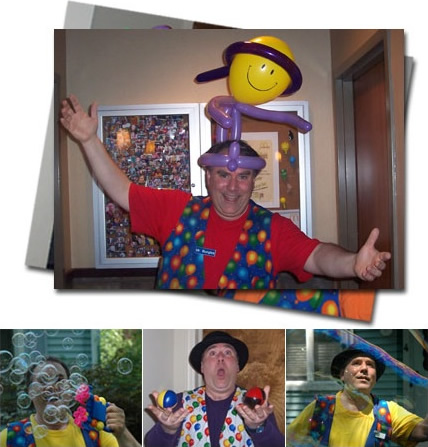 For HUNDREDS of 
more
references, 
click here
.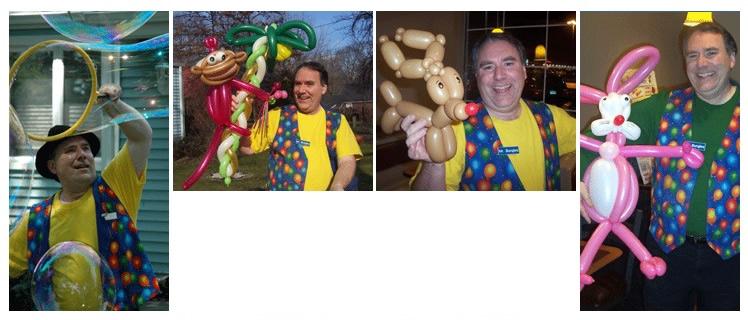 Mr. Bungles has been entertaining children professionally since 1996 & currently performs approximately 300 shows a year.
The kids will laugh, giggle, and have a wonderful time with his comical magic and juggling show. His balloons will amaze and delight, and the kids will have a great time, even going inside a bubble!
Juggling * Magic * Crazy Props * Guitar Music * Games * Balloons * Parachute * HUGE Bubbles*
Bubble Party with Mr. Bungles!!!
 The Bubble Station can be available for large events, or small backyard parties.
Mr. Bungles is a very popular comic character using crazy props, juggling, comedy magic, creative balloon sculptures and lots of wonderful physical comedy. Children of all ages laugh a great deal and have a great time. The character was created because parents were asking for a show without make up to avoid potential problems with young children. Mr. Bungles became more popular than the original Pongo The Clown character and now performs at all of the shows. He is also great for the older kids who feel they are "too cool for clowns" and for everyone in between who just likes to laugh and have a great time. Mr. Bungles performs for all ages and is the perfect solution to those who want all the slapstick comedy without the chance of tears. Because of the bright costume and broad character, children often refer to Mr. Bungles as a clown but he can also be known as a comedian, magician, or children's entertainer. For more information click here.
Thinking of booking a comedy show with Mr. Bungles? Or planning a big event? Here's what you should know.  
The kids will laugh and have a great time.

I'm a full time, year-round professional entertainer and event planner.

Over twenty-five years of performing experience including Theatre, Film, Television, Commercials and Stage.

I personally perform at around 250 shows per year.

I can entertain people of all ages and I have a knack for improvisation. 

I love making kids laugh and I know what they like. 

Most of my work comes from repeat clients and referrals. 

I keep the kids entertained so you can enjoy your guests.

I love my job and it shows.

People hire me year after year and sometimes book a year in advance.

You can read references from over 200 families.

I'm always adding fresh material to my show.

I'm easy to deal with.

I give every audience my very best.

I'm dependable and experienced with children ~ a father of two, too.

I have planned events with multiple performers for thousands of people.

I continue personal growth by attending or teaching at clown conferences around the country throughout the year.

I have been performing professionally since graduating college with a Theatre Arts degree in 1981

 
Goody bags are free with all birthday parties with Mr. Bungles.
Includes a magic color changing pencil  and party information.
Available for:
« Birthday Parties « Corporate Events « Grand Openings « Restaurants « Christenings « Weddings « First Communions «Holiday Parties « Carnivals « Festivals « Fairs « Special Events « Amusement Centers «
. . . and any time you need a good laugh!