Mr. Bungles was part of a team that built an underwater adventure with 45,000 balloons. Check out this cool video!
Norwalk's Mordoff participates in fifth Balloon Manor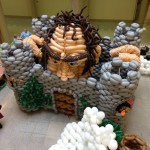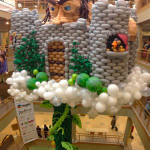 Sunday, April 20, 2014
"It was a great experience to be part of Balloon Manor once again," Mordoff said in a release. "The hard work and long twisting hours was worth every moment when you see the expressions of amazement on the thousands that came through the building."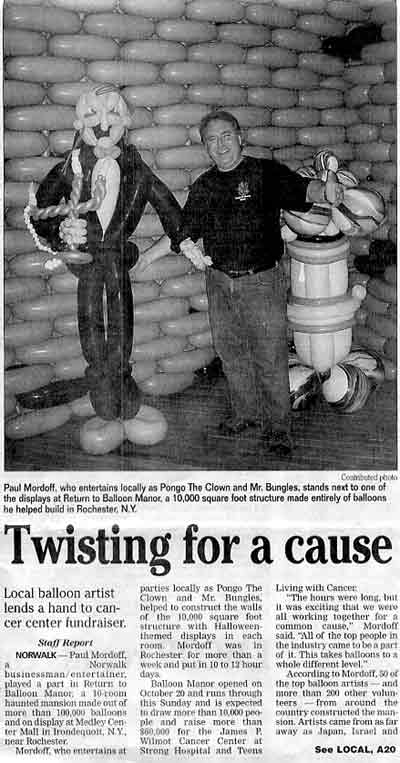 Balloon Manor
Paul Mordoff (Mr. Bungles) featured balloon artist was part of the team that came from all over the world to create Balloon Manor in Rochester four times since 2004. This slightly spooky haunted house is made out of approximately 100.000 balloons and has received national attention. Learn more by following these links:
See the Floor Plan and Room Description as well as the Cast of Characters for the 2006 Balloon Manor in this PDF
Watch Balloon Manor creator, Larry Moss, on the Martha Stewart Show: Part 1andPart 2<http://partytalent.com/
Balloon Manor on PBS. Watch video here.
The Hour, Norwalk, article on October 27, 2006, "Twisting for a cause"
East Norwalk Library to present Mr. Bungles
Thursday, August 11, 2011
"It's time to get the kids out of the house and have some fun with Mr. Bungles, who will be appearing for a repeat performance at the East Norwalk Public Library on Friday, Aug. 12 from 10:30-11:30 a.m."
Moving reminder of casualties of war on display at Christ Episcopal Church
Wednesday, April 27, 2011
"Norwalker Paul Mordoff, owner of Pongo the Clown Party Talent, is used to reading people's emotions so he can fine tune his performances accordingly.
But it was a sight driving to a gig that stirred his own emotions–the Field of Flags memorial was set up on the grounds of a church in northern Connecticut–compelling him to bring it to Christ Episcopal Church in East Norwalk. "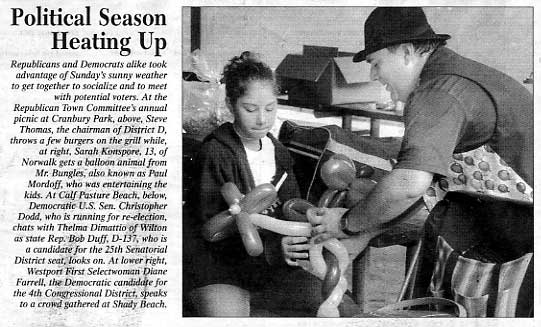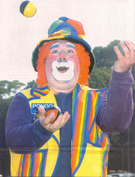 Click here to read the Wilton Bulletin article – July 10th, 2003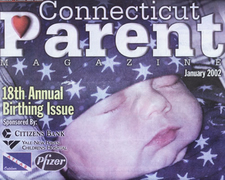 Click Here for CT Parents January 2002 issue featuring Pongo the Clown!
"Get ready to laugh and have some fun! Pongo the Clown has a wonderful approach with kids and is a terriffic, energetic, professional clown. He has amazing comic timing and improvises with all the kids and adults, giving everyone a chance for a good belly laugh. Pongo has been entertaining children and adults for years and is known as one of the finest full-time party clowns available. Combining his talents as a singer and guitar player, juggler, musician, and incredible balloon sculpter, Pongo is heavily booked and is well known throughout lower Connecticut…"
"As seen in" Connecticut Parent Magazine Party Resource Guide, 2002-2003 Edition
" Party Talent, LLC. is talented and reliable, gets everybody laughing and having fun, and is simply the best investment to make sure your party is a success. The company, called Party Talent, LLC. Party Talent offers Pongo the Clown (a traditional clown character), Mr. Bungles (a comic character without make up) a balloon storyteller and even Santa! No matter what character you choose you will have a party that everyone will remember. Paul Mordoff, better known as Pongo, has a wonderful approach with kids and is an energetic, professional clown and versatile performer. Combining his talent as a singer and guitar player, juggler, magician and incredible balloon sculptor, he is heavily booked and is well known throughout Connecticut and NY.
As Party Talent, LLC., Mordoff has been featured multiple times on cable television and entertains for corporate events, private parties, fairs and hundreds of birthday parties every year. He also entertains both children and adults with balloon deliveries, singing telegrams and more. Mr. Mordoff is known as one of the finest full time entertainers available with hundreds of references from parents and businesses posted on his web site.
Pongo the Clown Party Talent also provides other professional performers and can arrange stilt walkers, magicians, caricatures artists, face painters, unicyclists, jugglers, cotton candy and bubble parties for hundreds or thousands of people. One call will do it all. — For more information, call 203-846-2000. Go to www.pongotheclown.com or www.partytalent.com to read references from parents, see photos, read articles, enjoy free on-line computer games for the kids or reserve a party date."
As seen with the title "Pongo and Friends Make Any Party Spectacular" in the Connecticut Parent Magazine, 20th Annual Party Spectacular September 2004

Read about the Dogwood Festival of 1999
Read the complete Review from the CT Parent Party Planner, right here!
And Adults love Pongo too!